Route
Location
Casa Lamberdina is situated in the valley of El Cimbre, in the south east of Spain between Lorca and Puerto Lumbreras.(see Google maps)

Neighbouring airports are Alicante, Murcia and Almeria with departures from several Dutch airports departing from Weeze airport (Germany).
It may also be possible to use Corvera airport (close to Murcia) which is an hour's drive from our B & B.

Casa Lamberdina: How to get there.
Our B & B is about a two hours drive from Alicante to the south and half an hour less from Almeria and Murcia airport.
Either way you will take the coastal route A 7 until exit 651 (A92 N ) Velez Rubio/Granada near Puerto Lumbreras. On this road you will see in about 10 minutes exit number 6 appearing. (after exit 9) Go this way and at a roundabout take the first road to the right. You will see at once Parroquia- turn left at the restaurant Las Macetas and continue this road for about 15 minutes (10 km).
Than you have almost reached El Cimbre till you'll see the actual sign El Cimbre with 4 big olive trees in square baskets.Take this sandy road and keep right at the first roundabout . At the second roundabout follow the Casa Lamberdina directions.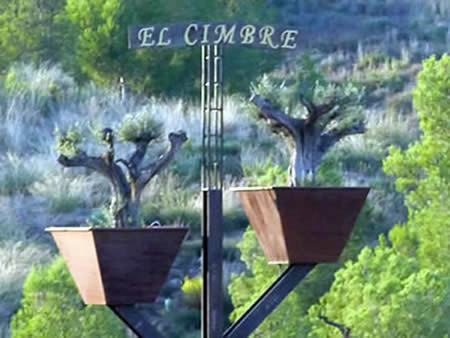 If you come from the direction of Granada on the A92, take the exit 6 Henares/ Parroquia. At the rouandbout turn left and go across the A92. At the next roundbout take the first street to the right (Servicio). After 200 mtrs. you will turn left direction Parroquia at the restaurant Las Macetas. Further information see description above.
Directions to Casa Lamberdina (second option: 25 kilometers less)
From the A7, take the exit 633 Lorca/Caravaca. At the roundabout take the second exit marked  ' via de servicio ' and continue to the next roundabout, where you go straight ahead towards 'Pantano de Puentes'. Follow this road for approximately 6 km. and then take the first turning on the left onto a tarmac road.

At the end of this road turn right onto the RM 701.
Keep driving on the RM 701 past 'Los Cautivos' and 'Embalse de Puentes'. Just after  the 15km pole  (by the yellow and green trash cans) there is a large sign marked 'Almería/Granada'.

Take this (new) road  for approximately 9 kilometres until on your right you see a large metal sculpture with four olive trees in pots and a sign marked 'El Cimbre'. Turn right towards the sculpture and as you drive down this road, follow the series of signs marked
'Casa Lamberdina'.

Alternatively you can enter the following GPS coordinates: N37gr.42.324 ' W1gr.54.648 ' gr. = degrees)    Our telephone numbers are: 0031 6 52591266 (Diny) 0031 6 12127071 (Bert)
We welcome you with a cool drink on the terrace.
Like to see you soon!