Location

Casa Lamberdina is situated in the valley of ElCimbre, in the south east of Spain between Lorca and Puerta Lumbreras (see Google maps).
Neighbouring airports are Alicante, Murcia and Almeria. The airport Corvera, close to Murcia, will open in 2019. It is an hour´s drive to Casa Lamberdina. We recommend to rent a car, look for car rental on www.hispacar.com
SURROUNDINGS
Villages
Beaches
Nature
Cities
Velez Rubio
A 20 minutes' drive will take you to the picturesque village Velez Rubio, where you can find tapas restaurants, monuments and the Iglesia Nuestra Senora de la Encarnacion. There is a colourful market every Saturday.
Furthermore the prehistoric cave drawings (Cuevas de Letreros) are well worth visiting. The trip to the place is fun and it is all under the protection of Unesco
Velez Blanco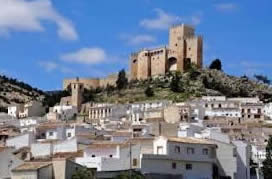 You will find the village of Velez Blanco, an authentic Spanish village in about a 10 minutes'drive.
In Velez Blanco is a beautiful Moorish fort overlooking the mountains and the national park Las Marias, equally worth a visit. From Velez Blanco there are several walks, some of them go past the wonderful vultures' colony. The weekly market is on Wednesdays.
Totana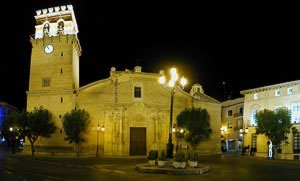 Totana is especially on Wednesdays with the weekly market a bustling town. It is well known for its potteries and you will see a lot of vendors along the road. There is also a tapas route, more information can be obtained at the local tourist office.
Mula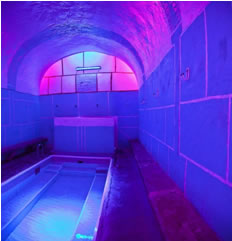 From our B&B it is about a 45 minutes' drive to the unique 100 % natural hot water springs in Mula (Murcia region). The average temperature is 39,5 degrees. Overall there are seven individual bathrooms with thermic baths, suited for 2 to 4 persons, but also for 12 at most. In some baths colour therapy has been installed and there is a bath with a whirlpool. The average price varies from € 20 to  € 25 for 4 persons. For more information, see: www.balnearioelpozo.es
A 45 minutes drive to the beaches of Aguilas, Mojácar, the Bay of Mazarron and Bolnuevo.
Here is something for everyone to experience.
Aguilas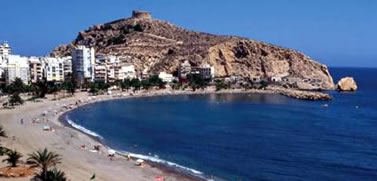 Aguilas has a coastal area of 35 km and has the most southern location on the Costa Cálida. East of Aguilas is an interesting coastal area, where the Puntas Calnegre is located. Together with Cabo Cope is Puntas de Calnegre a regional park with clean sandy beaches and crystal clear waters, where enthusiasts enjoy the diving sport.
The bay of Mazarrón and Bolnuevo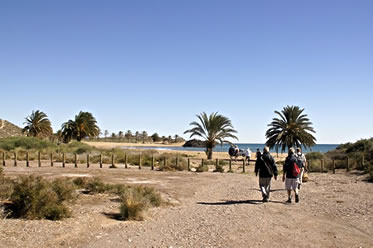 This Bay consists of 40 beaches, including sandy beaches and coves with rocks, which you  can use for yourself or share with the sea birds. The Costa Cálida is not yet really known to the general public and it shows (weglaten). A beautiful sandy beach with palm trees is Playa Percheles. Spread out over the Bay you will find three diving schools and there are water sports, one can rent a boat or go fishing on the sea itself.
Mojácar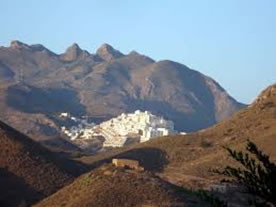 Mojácar is one of the most touristic places along the Costa Almería. The village with its white Moorish houses is already visible from afar, lying on top of a hill  and overwhelming overlooking the Mediterranean Sea. On Sunday morning, here is a flea market and on Wednesday is all the way on top of the mountain the weekly market .
Sierra Espuña Natural park
In this national park, you will find yourself in a beautiful mountain landscape with many forests reservoirs. Here  even live herds of mouflons in the wild and sometimes you will see wild boars crossing. You can go here for beautiful hiking trails, but can also use a kayak on the lake or with a quad or mountain bike through the mountains enjoy all the natural beauty. Visiting this beautiful natural park is well combined with a visit to Totana and Aledo.
Sierra de Maria Los Velez
A wonderful mountainous nature reserve (up to 2045 m above sea level). The hikers and mountain bikers will appreciate the nature and spectacular views.
Sierra Nevada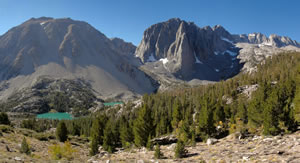 Sierra Nevada is a mountain range in Andalusia, what snowy mountain range means in Spanish. With sixteen peaks above 3000 metres it is after the Alps the highest mountain range in Western Europe. The highest mountain of the Spanish mainland, the Mulhacén (3482 m), is located in these mountains. The national park with its variety of landscapes has all the characteristics of the climate of the high mountains. By climate fluctuations and height differences you find there is a huge diversity of plants and animals. In winter the Sierra Nevada also offers many opportunities to skiing with 83 kilometres of ski slopes.
Lorca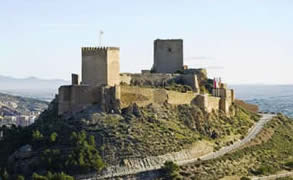 Lorca is a town where time has stood still.The town is well known for its baroque architecture and is dominated by its imposing castle consisting of parts of a fortress from the Roman era. Add to this a number of museums and churches and you will realize it is all well worth visiting. An impressive procession is held in the so-called holy week drawing lots of people.
Murcia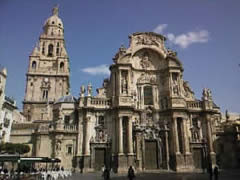 Murcia is the regional capital and university town of the province. At an hour 's'(weglaten) drive from Casa Lamberdina you will find in Murcia things worth seeing such as the Cathedral de Murcia, one of the highlights of Spanish baroque architecture. Many museums and the casino with splendid wall paintings are also worth visiting. In the old centre you will find many shopping opportunities and places to enjoy a lovely glass of sangria and naturally tapas.
Granada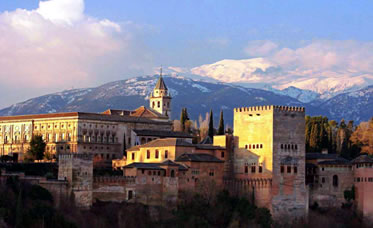 If you are interested in culture, history and gastronomy Granada is the place to be at approximately a two hours' drive from Casa Lamberdina. Especially recommended is the Al Hambra, a vast palatial area with splendid gardens dating back to the times of the Moors. Reservations will have to be made beforehand for about € 14 per person. (www.alhambra-tickets.es).
Caravaca de la Cruz
Caravaca de la Cruz situated north-west in the Murcia region is one of the five holy towns in the world, a pilgrimage centre such as Rome, Jerusalem, Santiago de Compostella and Santo Toribio de Liebana. Here is the home base of the Caravaca cross, the Vera Cruz on top of a hill. The status of Holy Town was awarded by Pope Paul in 1998 and every seven years a permanent jubilee will be held, starting 2003 and the next one is in 2017.